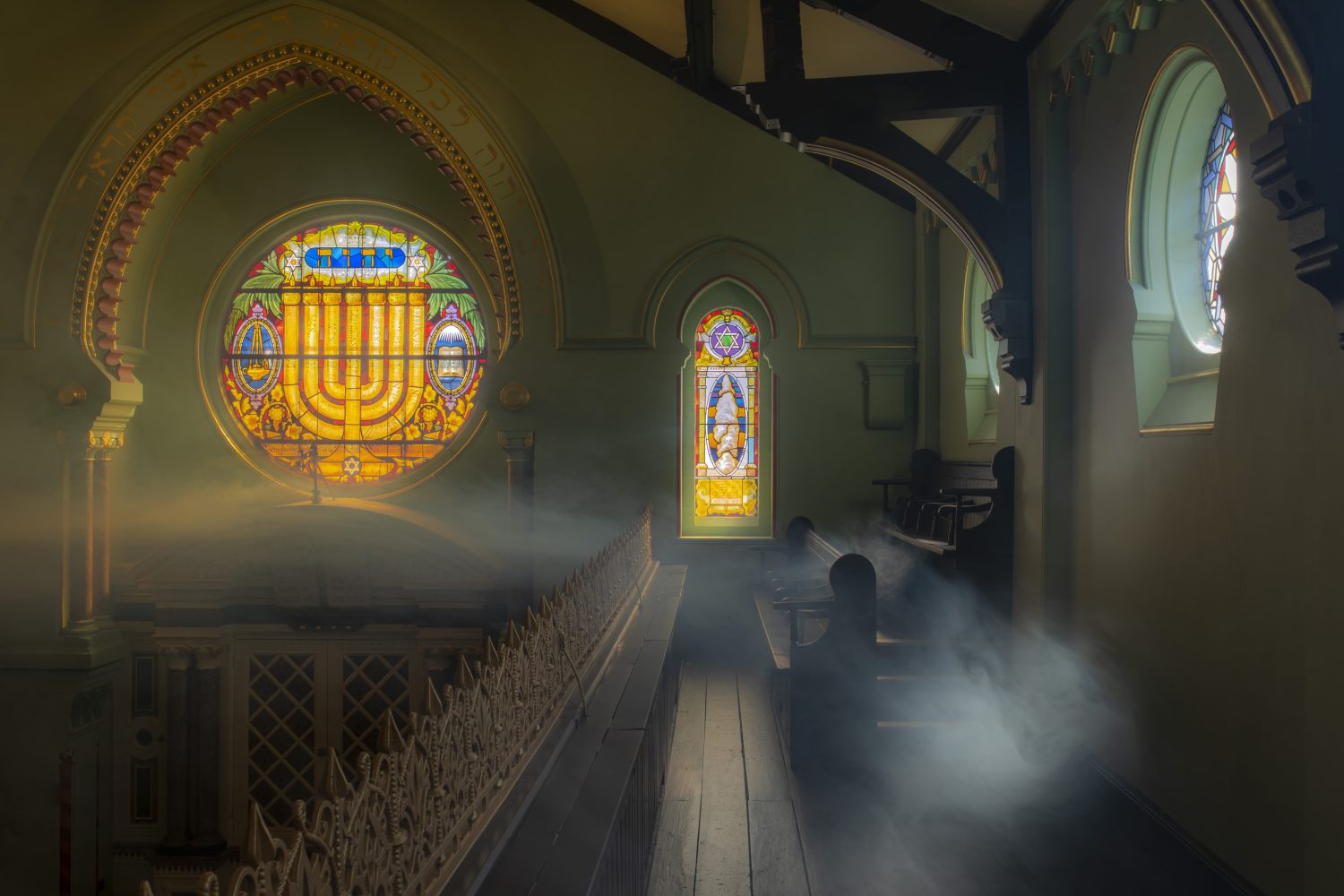 The Ladies Gallery, photo by Lee Baxter courtesy of Manchester International Festival, 2021
Laure Prouvost: The long waited, weighted, gathering
2 July – 3 October 2021
We reopened this summer with a unique installation by Turner Prize-winning artist Laure Prouvost as part of Manchester International Festival 2021.
Laure transforms The Ladies' Gallery of our breath-taking 1874 synagogue into an immersive experience where the voices of the past will surround you. Using film, sound and textiles, Laure will transport you through the synagogue's history, surrounded by the echoes of the lives that once resonated there. 'The long waited, weighted, gathering' will run from 2 July to 3 October 2021 and will be open to all museum visitors. It will be screened every hour from 11am to 4pm with a final screening at 4.45pm.
Tickets are on sale for timed entries with limited capacities.
To book your visit click here.
Manchester International Festival (MIF) takes place every two years and sees the city come to life with new and original artworks, events and performances. We're delighted that we are able to collaborate with the festival to celebrate our reopening and show off our synagogue from a whole new perspective.
Laure Prouvost is known across the art world for her immersive films and installations. She excels in toying with expectations and offering playful new ways of viewing the world. Laure will be working with our our own women's textile group to create new materials for the installation. Like the women who sat in The Ladies' Gallery before, these women's voices will be felt through the installation.
We can't wait to welcome everyone through our doors to experience Laure's installation and see our newly restored synagogue from a whole new perspective.
Commissioned by Manchester Jewish Museum and Manchester International Festival.
Produced by Manchester Jewish Museum.
Laure Prouvost, Studio Prouvost and Grandma's friends.
Teri Romkey, hilly hills manager of the 4th floor.
Maud Gyssels, birds eye view
Ciarán Wood, image cutter
Laura Seddon, producer
Nick Runeckles
Paul Cassidy
Berengo Studio
The Vectar Project
Manchester Jewish Museum's Women's Textile Group: Cynthia Adowa, Felice Beilin, Shelley Blackston, Marilyn Cohen, Hilary Edis, Diane Greene, Shosh Lewis, Oana Mancu, Samina Naveed, Linda Price, Rabia Salim, Jo Scorah, Samantha Sutherland
Film participants: Shelley Goldsmith, Sally Halon, Jenny Lee, Jo Scorah
Installation images by Michael Pollard, 2021. Header image by Lee Baxter, 2021.